Illuminate your child room with joyful InnoGIO night lights!
The magical light of the lamp that will accompany your child in the land of dreams! The happy Kitty design of the lamp will make that child will love it immediately!
The InnoGIO Kitty Mini lamp is the smallest lamp in the Kitty series. Perfect for baby's little hands. Thanks to its small size, it is also perfect for travel. Kitty Mini will be a great companion for your child while growing up. The friendly and cheerful design of the lamp will make your child love it immediately. & Nbsp; A soft and soothing glow of light will bring the right atmosphere to the child's room. The changing colors of lights will help your child fall asleep easily, overcoming all nightmares of darkness.
The soft material from which the lamp is made ensures the safety of use even for the smallest children. In contrast, changing the color by touching the lamp with your hand will ensure great fun not only during the evening ritual of falling asleep.
SILICONE LAMP GIOKitty Mini
Powered by
3AAA batteries
Tap the lamp to change
the LED color
The warm light can use about 30 hours
Auto OFF after 1 hour
Operate in 7 colors, light color changes
gradualyy every 3 seconds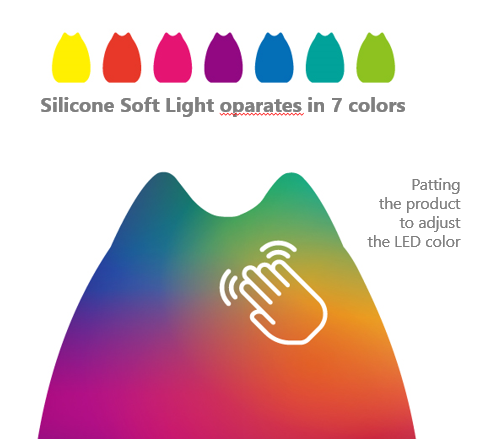 YOUR CHILD'S CALM DREAM